Amaya Lake Dambulla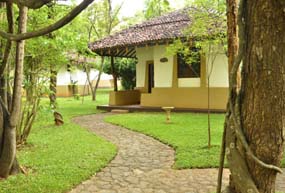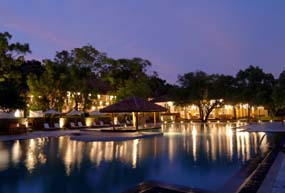 Stroll along tree-laden pathways and surrender to the pristine beauty of Amaya Lake. Discover rustic living in a lush island sanctuary, resonating an air of simple luxury, refined elegance and laid-back seclusion.
Location
Amaya Lake, Dambulla, is set amidst the Cultural Triangle, (Sigiriya, Anuradhapura and Pollonaruwa).  World famous for its archaeological wonders is 'Amaya Lake', which epitomises nature and romance and is styled in a manner of a typical Sri Lankan village. Built among 12 hectares of natural dry zone and vegetation over looking the picturesque Kandalama Lake, in Dambulla the chalets although totally luxurious take on the charm and character of an old Sri Lankan village. Bordering Kandalama Lake, the serene tranquility of Amaya Lake gives the discerning traveller a whole new perspective of relaxation.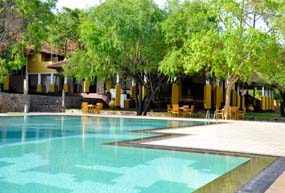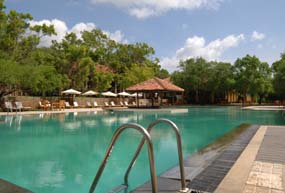 For direct reservations please call +94 66 4461500 or +94 66 2286932
Location
Rooms
A tropical haven complete with sweeping views of Kandalama Lake, Amaya Lake surrounds you with natural beauty. Choose your oasis from one of our 95 guest rooms and suites, designed in harmony with the unspoilt environs of the resort. Enjoy waking up each morning to the humming of birds and let the airy breeze and quiet whispers of rustling trees enliven your senses. Each room resonates a home-away-from-home impression, with soft, earthy tones to let your mind escape from the cares of the world.
GUEST ROOMS
Styled with laid-back sophistication, each guest room offers spectacular views of well-manicured gardens. Find comfortable living spaces, accentuated by soft lighting, charming wooden accents and artisanal Sri Lankan touches.
SUITES
Designed with graceful elegance, the resort's suites present the ultimate luxury for those with a yearning to be pampered. Each suite offers an outdoor plunge pool along with a jacuzzi, a sun-dappled pool deck and sunbeds.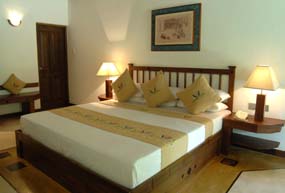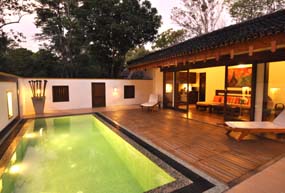 Dining
Dine in an alluring open-air atmosphere and savour international-inspired cuisine, reflecting the culinary finesse of our experienced award-winning chefs.
Samara
Presenting a range of delectable creations, our inspired menus bring together the most provocative elements of international cuisine, paired with a touch of Sri Lankan flair. Indulge in a culinary feast while high wooden ceilings set the stage for unhindered garden views, enhanced by elegant lighting and soothing oriental music. Further your experience with a refreshing specialty cocktail or order from the impressive international wine list. Reflecting the culinary finesse of our experienced award-winning chefs, each meal is impeccably-presented, designed to offer you exquisite dining options.
SPECIALTIES
Stuffed lake fish with fresh garden vegetables and garlic cream and lemon marinated Kapela fish.
Wewe Kade
Delight in healthy traditional cuisine, thoughtfully created to tantalize your taste-buds. A rustic Sri Lankan-inspired menu showcases its wood-burning oven to dramatic effect, while magnificent lake views bring a sense of serenity to the table. Adding to this wholesome dining experience are home-grown vegetables along with irresistible meals prepared and served in clay pots with wooden spoons. Enjoy an authentic Sri Lanka dining experience at this small open-air restaurant, built to emulate a traditional thatched hut.
SPECIALTIES
Our specialty is authentic Sri Lankan rice and curry, using herbs grown in the gardens to prepare healthy, flavourful dishes.
Amaya Lake Bar
Set alongside a spacious poolside, Amaya Lake Bar offers spectacular views of luxuriant gardens. Choose from a wide variety of tropical juices to cool you down in the afternoon heat. Later in the evening, enjoy live contemporary music while indulging in the resort's signature cocktails. Nearby lies a charming tree-house, where a flute player enriches the evening air with his melodies. Listen to beautiful symphonies while you mingle with your loved ones, savouring exquisite flavours of some of the finest wines.
SPECIALTIES
Our signature cocktails include Udarata Manike (vodka, passion and belli fruit), Kapela Ambula (arrack, lime, king coconut) and Dambulla Queen (brandy, coriander, lime and passion fruit).
Destination Dining
Those who have a penchant to dine outdoors have the comfort of selecting any location in the resort – overlooking the lake, on the luxuriant gardens or along the pool – and we will be more than happy to present you with an elegant dining experience. Enjoy sprightly conversation, while you dine under clear blue skies by day and under a canopy of stars at night. Be soothed by live instrumental music and enjoy undisturbed views of the lake or watch as squirrels scamper around the sprawling gardens.
In-room Dining
Savour an exquisite dining experience within the comfort of your guest room or suite. Choose from an extensive menu, served in the rooms personally by our friendly staff. Sample hand-crafted specialty cocktails or enjoy an intimate meal on the terrace while sharing in the romance of a brilliant sunset with your loved one. Ideal for private dining, impromptu meetings or time zone hopping travellers, our 24-hour In-Room Dining presents a melting pot of flavours from Asian inspired meals to Italian cuisine to decadent sweet dishes.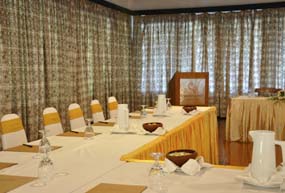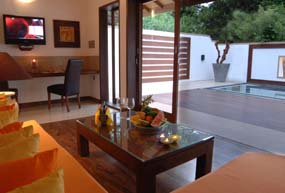 Sports & Entertainment
Escape to a resort brimming with activities – from shopping to tennis, from elephant safaris to bird watching. Choose from a spectrum of options, designed to appeal to a wide range of travellers from those adventurous at heart to those with a yearning to be pampered.
A dazzling pool, a holistic spa, and a boat ride along a tranquil lake – these and other exceptional facilities await you at Amaya Lake. At every turn, our attentive staff is on hand to meet your needs.
Amaya Pool
Surrounded by soothing sounds of tropical gardens, the swimming pool is a relaxing oasis designed to envelope your body in a refreshing embrace. From the spacious poolside, take in views of the lake while you unwind under a shade of an umbrella.
Spa
Awaken your inner spirit and revel in the restorative power of nature. Nestled in a secluded open-air courtyard, our ayurvedic spa is gracefully designed to present a serene, soothing ambiance to relax your body, revitalize your mind and renew your spirit.
Tennis
Practice your power stroke at our well-maintained tennis court, designed to offer fun-filled moments for guests.
Enjoy complimentary use of our tennis court and racquets. Play a game or two before lunch. After, plunge into the refreshing waters of the swimming pool just when the afternoon heat takes over.
WORK ON YOUR STROKE
An excellent way to stay fit during your stay at Amaya Lake, the tennis courts are ideal for family and friends, designed to make your stay much more enjoyable.
GAMES
For those who have a few hours to spare and are looking to while away the time, an endless list of recreational activities await you at Amaya Lake.
Table tennis
Board games
Carom
Chess
Snooker
Badminton
Volleyball
Cricket
Cycling
ACTIVITIES & EQUIPMENT
The resort offers the following activities and equipment on a complimentary basis:
Volleyball court, complete with volleyballs
DVD collection
Badminton racket with shuttle cock
Snooker table, complete with cues and snooker balls
Cricket bat & ball
Tennis courts, complete with rackets and tennis balls
Barge boats
Bullock carts
Mounting bikes
Nature Tours & Excursions
KANDALAMA LAKE
Embark on a finely crafted barge boat just as the sun begins to rise. The tranquil waters of Kandalama Lake offers a haven for those with a yearning to immerse in the island's natural beauty. Look beyond the glittering waters and be captivated by the lush mountains in the distance, shrouded by a blanket of mist.
CAMPING
Experience the beauty of rustic surroundings enveloping the resort when you embark on a night camping adventure. Hear the mysterious sounds of wildlife, scampering around the sprawling gardens when you enjoy a simple outdoor meal. Wake up to the rhapsodic humming of birds, adding to the sensation of being one with nature. Those adventurous at heart will savour the reality of an exhilarating night-time experience in the unspoiled environment of Amaya Lake.
Bird Watching
Surrender to the harmonious balance of nature as you spot exotic birds, elegantly perched on lush branches. Keep wandering along the pathways and encounter more species. Offering a rare opportunity to capture a haven of birdlife, Amaya Lake hails as one of the few bird friendly resorts in Sri Lanka, recognized by the Field Ornithology Group of Sri Lanka (FOGSL).
Catch a glimpse of these graceful creatures as you linger to capture picture-perfect moments. Forming a scenic backdrop is the magnificent Kandalama Lake and the mist-shrouded mountains of the Sleeping Soldier, enhancing your bird watching experience.
During your stay at one of the finest resorts in Dambulla, enjoy the opportunity to see birds in their natural habitat. Among the bird species that can be seen in abundance are Golden Oriole, White Egret, the bright emerald Alexandrine Parakeet, Tickles Blue Flycatcher, Scarlet-Coloured Flame Back and the colourful Orange-Breasted Green Pigeon. Our naturalists are experts in the field and have in-depth knowledge of the forested grounds to lead you on a memorable bird watching expedition.
TIME
Morning : 06:30am
Evening : 04:45pm
Duration of expedition :1:30 – 2:00 hours
Excursions
At Amaya Lake, you have the option to set out on exciting journeys and visit enthralling attractions located in close proximity to the resort. Choose from a variety of adventures that explore the island's mountains, valleys, lush forests and glistening lakes.
From a scenic hike through the verdant countryside to a fun bullock cart ride through the traditional village of Kapela, we organize a range of excursions to present an unforgettable experience of Sri Lankan culture. Visit the closest sites to the resort such as Dambulla Cave Temples or embark on a day trip to Kandy and marvel at the glorious palace ramparts.
Excursion activities include:
Jungle trekking
Elephant Safaris
Hiking
Sightseeing on Landmaster tractors and Safari Jeeps