Calamansi Cove by Jetwing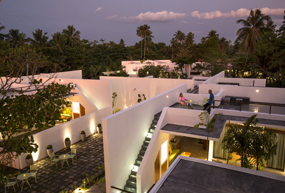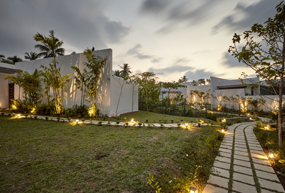 Located on the secluded sands of Balapitiya, is Calamansi Cove by Jetwing, a truly rejuvenating and private getaway where silence speaks. The perfect place for total relaxation and renewal in the privacy of your own home away from home. The property boasts beautifully appointed modern residence where you can relax to the sounds of the waves and the rustling of the trees. With stunning views and a tranquil environment, unwind listening to the therapeutic sounds of the Indian Ocean. Calamansi Cove by Jetwing offers pure relaxation and comfort in luxurious modern elegance.
Calamansi Cove by Jetwing is situated in the southwest of the island, 100kms from the Bandaranaike International Airport and 80km from Colombo. If the scenic coastline road is taken the journey will last 2 hours whilst the highway will take approximately 1 hour. The land area of the hotel and its surroundings amass to 2.5 acres.
       
Location
Rooms
Each of the twelve residences provides a private experience, tastefully designed to exquisite contemporary detail. The one bedroom residences all boast private gardens and rooftop decks, adding to this unique experience.
Room Facilities
• Air-conditioning
• Electric power – 220v to 240v
• Free high speed internet access throughout the property including the beach
• Phones with IDD facilities
• Bathroom with an indoor and outdoor shower with hot and cold water
• Bottled water
• Electronic safe
• Tea/coffee making facility
• Bathrobes and beach bag
• Spa Ceylon amenities
Room Facilities on Request
• TV with international and local channels
• Hair dryer
• Baby cots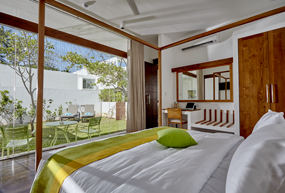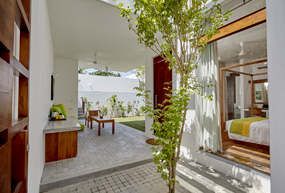 Dining
The relaxed, modern menus at Calamansi Cove by Jetwing have been created to deliver a variety of dishes with a blend of European and Asian influence. Meals are served at a beautifully furnished restaurant facing the Indian Ocean. Choices are also available in the bar area, and guests can of course opt to pick a favourite place on the beach or even in the privacy of their own residence.
Restaurants & Bar
• Tangerine Restaurant
• Xango Bar
• Canopy Terrace
Special Dining
• BBQ dining
• Beach dining
• Garden dining
• Private in-room dining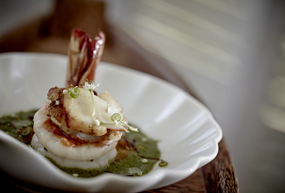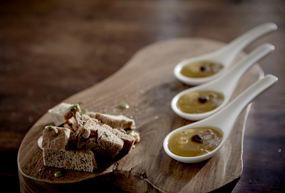 Sports & Entertainment
Sports & Entertainment
• Pool
• Volleyball court
Guest Facilities
• Butler service
• Room service until 11pm
• Babysitting on request
• Doctor on call
• Parking facilities
• Daily housekeeping
• Postal facilities
• Left luggage facility
• Cars and taxis on request
Nature Tours & Excursions
Outdoor Activities & Excursions
Archaeological sites
Galle Fort (UNESCO World Heritage Site)
Religious excursions
Temple visits in Balapitiya, temple on the sea and one in the middle of the Madu Ganga Lagoon
Island hopping
Madol Duwa
Kurundu Doowa (Cinnamon Island)
Spice Island
Temple Island
Arts & Culture
Museum of Folk Art and Culture Maritime Museum,
Mask carving and lace making
Ariyapala Mask Museum
Nature excursions
Hiyare Rainforest
Trekking at Rumassala (associated with the legend of the Ramayana story)
Madugama
Kottawa Rain Forest
Handunugoda Tea Estate
Scuba diving and snorkelling
Bentota
Jungle Beach
Hikkaduwa and Unawatuna
Other excursions
The Bawa trail – Geoffrey Bawa's Lunuganga and Bevis Bawa's
Brief Garden
Whale watching and surfing in Mirissa
Dutch Reformed Church
Sea Turtle Farm and Hatchery – Habaraduwa Beach
Madu Ganga Lagoon boat safari
Visiting Cinnamon peeling centres
Water sports and boat rides out to sea in Bentota