Jetwing Beach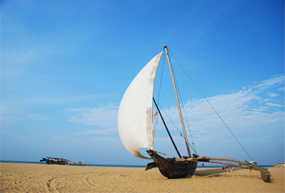 Jetwing Beach is the first hotel in Negombo to receive membership to the Small Luxury Hotels of the World. The hotel lies nestled among the palm trees, along a beautiful sun- kissed beach in the coastal town of Negombo.
It is a mere 12 km (20 minutes drive) from the Colombo International Airport, while Colombo is just a 43 km drive away.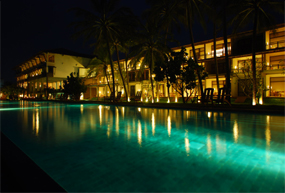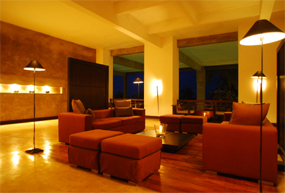 Location
Rooms
Dining
Our star class chefs take you on a culinary journey when you stay with us. Impeccably prepared meals with emphasis on taste and presentation makes every culinary experience at Jetwing Beach an affair to remember.
RESTAURANT AND BAR
*The Sands Restaurant
*Black Coral – for fine dining
*Terrace Bar
*À la carte menu including health and vegetarian food
*American breakfast buffet with health food corner
SPECIAL DINING
*Beach BBQ
*Terrace for Al Fresco dining under the stars
*Sundown cocktails daily
*Spa/ special suite dining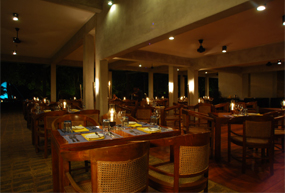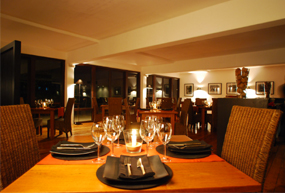 Sports & Entertainment
IN-HOUSE ACTIVITIES
*02 swimming pools
*Tennis
*Gymnasium
*Spa – with 2 single treatment rooms, a Thai and Shiatsu room and a Rama & Sita room
OUT OF HOUSE ACTIVITIES
*Boat rides
*Cycle tours
*Nature tours
*Professional Water Sports Center
Nature Tours & Excursions
NATURE TOURS & EXCURSIONS
*Muthurajawela – boat safari, tree trail
*Visits to multiple religious places of worship – churches (Roman Catholic and Church of England), Buddhist and Hindu temples, Mosques.
*Negombo Dutch Fort and Negombo City Tour.
*Traditional fishing experience
*Anawilundawa bird tour
*Wilpatthu National Park (wildlife safari)
*Trip to Dambadeniya, Yapahuwa, and Arankele archaeological sites
*Diving – Kudapaduwa shipwreck, Duwa coral reef, La Gala coral reef, Katuneriya Royal Air Force aircraft (Will be conducted during season, knowledge of diving required)
(Nature tours and excursions will be conducted by a qualified naturalist.)