Jungle Beach, Trincomalee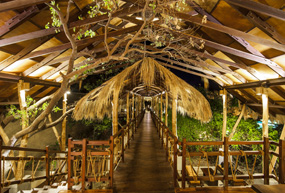 Offering the best of land and sea, this luxury Sri Lanka beach resort simply known as Jungle Beach has artfully incorporated existing trees and natural plant life into the hotel's design, making you feel like you're in a luxurious tree house.
Three choices of rooms are available at our truly unique Trincomalee hotel, facing the beach, the lagoon or fully immersed in the jungle, where you can still hear the lapping of the waves mixed with the songs of birds.
Follow teak walkways and stepping stones to find your way to the rustic dining area open to the sea breezes. Cross the bridge over the lotus pond to the bar, and then onto the floating platform for lounge chairs by the pool, where the waterfall heightens the sense that you have escaped into a tropical jungle oasis.
Located close to Trincomalee, this ocean beach resort is one that offers a blend of luxury and exciting adventure activities, as well as sightseeing opportunities that provide a glimpse into an ancient civilization and a rich cultural heritage.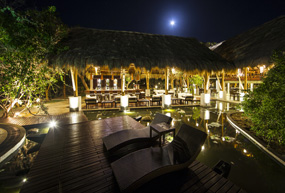 Location
Rooms
48 luxurious villas of modern design yet crafted from indigenous materials as to appear born of the jungle and fused in harmony with the natural surroundings all offering spectacular views of the ocean. Each villa tucked deeply within luscious foliage, offers utmost privacy and seclusion. Spacious 650 square feet villas, each one luxuriously appointed with king sized beds, high-end entertainment systems, private decks and outdoor rain showers (excluding Lagoon Villas).
Lagoon Cabin
Immaculately designed to an eco friendly concept, each of our lagoon cabins offer a tasteful spread of luxury and traditional deco tucked away amidst a serene backdrop of thick foliage. Wake up to breathtaking views of the surrounding area and begin your day with a rich indulgence of exotic hospitality at your beck and call.
Lagoon Cabin Features Include:
·  42 inch LED TV
·  Large King Bed
·  I-Pod docking Station
·  Large bathroom with rain shower
·  DVD Player
·  Safe
·  Mini Bar
·  Complimentary WI-FI
·  Tea & Coffee Facilities
·  His & hers bath robes
·  Hair Dryer
·  24 hour room service
Jungle Cabin
Stand alone Jungle Cabins offer spacious interiors featuring polished cement floors, organic cotton covered furnishings, beautiful Sri Lankan artefacts with King –Size bed, down pillows, luxurious cotton bed linen & terry bathrobes.
The outdoor living space features two day beds, a dining table & chairs.Rooms are air-conditioned, have complimentary WiFi access & are approximately 50 square metres
Jungle Cabin Features Include:
·  42" LED TV
·  Large bathroom with indoor and outdoor rain shower
·  I-Pod docking Station
·  Safe
·  DVD Player
·  Complimentary WI-FI
·  Mini Bar
·  His & hers bath robes
·  Tea & Coffee Facilities
·  24 hour room service
·  Hair Dryer
·  Large King Bed
Beach Cabin
Located on a private beach with views of the azure blue Indian Ocean, Beach cabin offer exquisitely adorned living spaces with a vaulted ceiling, roofs thatched with Iluk leaves and a private out-door terrace. The 50 square metre fully air conditioned interior of the cabins feature polished cement floors, organic cotton covered furnishings, beautiful Sri Lankan artifacts and complimentary WiFi.
Beach cabins have their own private walkway to the seashore adorned with sparkling sand, where one can lounge while being attended to by helpful staff, or can hide away in a private clearing under the stars for a beach front signature dining experience-one of the many on offer.
Beach Cabin Features Include:
·  42" LED TV
·  Large bathroom with indoor and outdoor rain shower
·  I-Pod docking Station
·  Safe
·  DVD Player
·  Complimentary WI-FI
·  Mini Bar
·  His & hers bath robes
·  Tea & Coffee Facilities
·  24 hour room service
·  Hair Dryer
·  Large King Bed
Jungle Cluster Villa
A cluster of Villas allows groups to share the adventure, with their own private pool. Cluster Villas offer a private ambiance with the traditional UGA luxurious amenities and service. These spacious rooms are adorned with beautiful artifacts and are fully air conditioned with complimentary WIFI.
Jungle Cluster Villa Features Include:
· 42" LED TV
·  I-Pod docking Station
·  DVD Player
·  Mini Bar
·  Tea & Coffee Facilities
·  Hair Dryer
·  Large King Bed
·  Large bathroom with indoor and outdoor rain shower
·  Safe
·  Complimentary WI-FI
·  His & hers bath robes
·  24 hour room service
·  Cluster Pool
Facilities
The resort also offers a Spa, Gym and an open-air restaurant with many elegant signature-dining options on open decks on the beach and in the trees. Located near the main swimming pool with glimpses of the ocean, the restaurant seats 70 guests and is open from 7.00am to 11.00pm, serving International and Sri Lankan favorites.
Complimentary Wi fi connectivity in your rooms and throughout the property, a fully equipped fitness centre to work off the calories, and a friendly team of 'associates' who are on call 24 hours a day will enhance your holiday experience.
RESORT SERVICES & CABIN FACILITIES
·  24-Hour Assistance
·  Doctor On Call
·  24-Hour In-Cabin Dining
·  IDD Telephone
·   Laundry
·   Foreign Currency Exchange
·   All Major Credit Cards Accepted
·   In-Cabin Safe
·   Complimentary Jungle-wide Wifi
·   Bicycles On Request
·   Valet Parking
·   24 Hour Security
·   Gym
·   Jungle Pool
·   Spa
·   Yoga Studio
·   Jet skis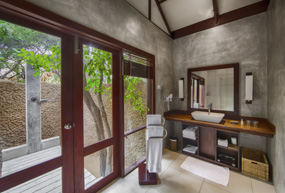 Dining
Tucked away in a panoramic coastal area of Kuchchaveli, Jungle Beach is one of the few luxury boutique hotels in Sri Lanka where you will get to sample culinary delights prepared using some of the best local ingredients and food traditions. Treat your taste buds to an array of mouth-watering dishes made with a light fusion of contemporary international and Asian flavours, using the freshest locally sourced seafood and healthy natural ingredients. With a young and creative culinary team, we bring a diverse range of dining experiences featuring authentic Sri Lankan cuisine including delectable seafood dishes and more. Enjoy an intimate beach picnic under the stars, with the breathtaking backdrop of the Indian Ocean or simply choose from the other signature dining options that await you at our enchanting coastal getaway…
Restaurant
Savour the exotic tastes of authentic Sri Lankan cuisine when dining at our restaurant in Jungle Beach. The restaurant offers traditional recipes immersed in local ingredients and flavours, among the finest you can find in Sri Lanka 5 star beach hotels. Succulent seafood platters prepared from the fresh catch of the day is the highlight of the unique dining experience at Jungle Beach. Whether it is spicy rice and curry, western cuisine or a simple salad, we are ready with an array of mouth-watering dishes prepared with a strong commitment to fresh, organic products that are locally sourced, to entice your taste buds. As the cool sea breeze lets you wind down, our elegantly designed spacious restaurant overlooking the lush green vegetation and pool, offers the perfect ambiance to satisfy your gastronomical whims during your holiday at Jungle Beach.
Private Dining
While part of any culinary adventure involves sampling authentic local cuisine, we at Jungle Beach take it one step further when it comes to dining in Trincomalee by letting you choose the backdrop for this gastronomic journey of discovery. Imagine tasting exotic cuisine amidst a lush green jungle backdrop bringing you closer to nature or having a romantic picnic on the beach, lulled by the gentle sound of waves as you sit under a canopy of stars. From exquisitely prepared five course meals to delectable local seafood dishes, private dining at Jungle Beach lets you savour the unique flavours of authentic Sri Lankan cuisine in truly enchanting settings.
Sports & Entertainment
Yoga
Rejuvenate your mind and body as an experienced Hatha Yoga Master expertly leads you through a series of asanas (poses).A truly rewarding experience to restore balance and a sense of renewed wellbeing that will leave you wanting more.
Cookery
The best way to understand the people and culture of a country is through its food. Join one of Sri Lanka's top chefs to learn how to prepare some of this island nation's signature dishes characterised by its wide variety of aromatic spices and fiery heat along with the distinctive infusion of coconut.
Nature Cycle Trail
Gain a glimpse of rural life in the Eastern Province ona gentle cycle ride to Maduwakulam Tank via the saltpan. Marvel at the sheer variety of Sri Lanka's abundant wildlifeincluding water and migrant birds (depending on the season) in addition to wild peacocks, parakeets and hornbills, as well as the possible sighting of elephants and crocodiles that inhabit Maduwakulam tank.
Jet Ski
Enjoy jet skiing as part of a selection of Jungle Beach's thrill seeking ocean adventures.
Kite Making
Try your hand at the traditional Sri Lankan craft of making and flying your own kite. All the necessary materials will be provided before you take to the skies.You and your kids will both enjoy this.
Nature Tours & Excursions
Attractions
Renowned for being one of the best natural deep-water harbours in the world, Trincomalee is admired for its white sandy beaches such as Nilaveli and Uppuveli. Found in the north eastern coast of Sri Lanka, "Trinco", as it is fondly referred to, is a desirable water sports destination owing to its throngs of pristine beaches which rank among the most scenic in the island. Boasting the world's fifth largest natural harbour, Trinco is home to its fair share of cultural and historical attractions as well.
The region's strong Dutch influence is evident through sites such as Fort Frederick which is home to the Swami Rock, atop which the famed Koneswaram Temple is located. Dedicated to the Hindu God Shiva, the temple is one of the main sites reflecting the historical significance of Trinco. Besides this classical-medieval temple complex, the popular Lover's Leap can also be found within the vicinity of the fort.
Adding to the distinctive natural beauty of the destination is Pigeon Island, which is a charming little rocky islet off the coast of the scenic Nilaveli Beach. Being a famous breeding ground for the iconic blue rock pigeons, it can be visited by taking a motorboat ride. Yet another point of interest among Trincomalee attractions is the group of seven hot water springs in Kanniyai. With varying temperatures, the water in these wells is believed to be rich in therapeutic value. A traveller exploring these attractions will be delighted to find Jungle Beach, a tranquil resort which lies in harmony with the surrounding natural splendour.
Hot Springs
The hot springs of Kannya are about five miles north-west of Trincomalee and about half a mile off the Anuradhapura Road. As with most places of interest in and around Trincomalee these hot springs also have their legend, which goes back to pre-Vijayan times, when Ravana was Lord of Lanka. The legend as told to Bella Sydney Woolf, Sister of Leonard Woolf and recorded in her 1914 publication "How to see Ceylon," is as follows:
"Vishnu wished to prevent Ravana from setting forth on some undertaking, and he appeared to Ravana as an old man bearing the false news that Kannya (his mother) was dead.
Thereupon Ravana determined to put off his project and, perform the rites for the dead, asked where he could find water for the ablutions. Vishnu disappeared and the hot springs burst forth where he had stood. Since then they have been called after Kannya."
Lovers Leap
The touching story behind Lover's Leap is not a legend. It is a true story attested by an inscription on a pillar on Swami Rock.Francina van Reed was the daughter of a gentleman of rank in the civil service of Holland. She was engaged to a young Dutch officer. He broke off the engagement, and his period of Foreign Service over, he embarked for Holland.
The forsaken girl watched the vessel from the promontory of Swami Rock, and when the ship taking away the faithless man passed the precipice she flung herself from the rock into the sea – a sheer drop of 400 feet.
A pillar set up on the promontory records the date of the tragedy – 1687 April 24. When Sir Emerson Tennent, Secretary of the Colony saw it in the late 1840s or early 1850s, the inscription which recalled the fate of Francina Van Reed was "nearly obliterated."
Temple of a Thousand Pillars
There was in times, long past a magnificent temple dedicated to Konath or Konasir on the cliff. 400 feet above the sea, at the Southern extremity of the peninsula that separates the inner from the outer harbour. British and other European writers of the 18th and 19th centuries refer to this shrine as the "Temple of a Thousand Pillars."
What was its original name and who built it? According to a Tamil legend, a Hindu Prince, having learned from the Puranas that the rock now known as Swami Rock was a fragment of the holy Mount Meru hurled into the present site during a conflict of the gods, came over to Lanka and erected upon it a temple to Shiva.
Being one of the main harbours in which seafarers in the Bay of Bengal dropped anchor, Trincomalee or Gokanna as this place was known earlier, must have been, from very early times, a settlement of Indo Aryan migrants.
Later the Pallavas and the Pandyan and Chola dynasties that ruled the Deccan (dhakkina desha) must have been closely associated with the up-keep of the Temple, lavishing wealth to maintain it in all its glory.
It is said that pilgrims from all over India came to the temple. One writer has said that it was more frequented by pilgrims than Rameswaram or the Jaganath Temple in Orissa.
The temple was razed to the ground by the Portuguese general Constantine de Saa in 1622 and he built a fort there using the stones of the demolished temple.
A temple has been built on Swami Rock (God's Rock) which is inside Fort Fredrick. It is held in high veneration by the Hindus, and frequented by Buddhist pilgrims too.
Excursions
Nestled in the breathtaking coast of Kuchchaveli, our conveniently located Jungle Beach resort gives easy access to all the significant places to visit in Trincomalee. We offer a wide range of excursions and guided tours to many top tourist attractions in and around Trincomalee while giving you the perfect opportunity to explore the sites of your choice.
You can explore this historical harbour city during the Trinco City Tour and Koneswaram, Lover's Leap, Fort Fredrick, War Cemetery and hot spring wells are among the many attractions you get to visit during this tour. Spend an exciting day out in the Pigeon Island while engaging in many water sport activities including diving, snorkelling and scuba diving. Dolphin & whale watching in Trincomalee is another adventurous excursion that is worth trying during your holiday.
Mingle with the locals and discover the life in Kuchchaveli and its natural surroundings as you take up on an exciting cycling adventure or nature walk in the unspoilt paths of this coastal village. Spend your evening at Arisamalai, after an archaeological site visit to Thiriyaya, during a combined tour to Thiriyaya and Arisamalai.
Whether you are a thrill-seeking explorer or an eager history buff, the dedicated staff and tour guides at our hotel in Trincomalee Sri Lanka are more than willing to plan out your tailor-made excursion to whatever the attraction that you would like to explore.
Pigeon Island Marine National Park
Discover the spectacle of this protected tropical underwater world with over 100 species of colourful corals teeming with 300 types of reef fish, as well as Black Tip reef sharks and a variety of rays and sea turtles. Options include diving and/or snorkelling.
Whale and Dolphin Watching
Something to add to your bucket list; to watch Blue Whales – the largest mammals ever known are residents off the shores of Jungle Beach and Sperm Whales – the largest predators on our planet and also the deepest diving whales travel in pods following the matriarchal system similar to elephants. Off the coast of Sri Lanka, we often encounter "super pods" containing 40 or more along with large numbers of Spinner dolphins.
Kokkilai Bird Sanctuary
Enter in to the world of our feathered friends and bring your camera along to show your friends back home. Sri Lanka is a bird watchers paradise. Situated on the Kokkilai Lagoon, this sanctuary is home to the rare and endangered Black-necked Stork as well aslarge numbers of pelicans and hundreds of migratory birds.
Thiriyai Temple
The ruins of the most ancient Buddhist Dagaba in Sri Lanka, Girihandu Seyasituated on top of a 212 foot rock, offer stunning 360 degree views of the surrounding countryside only recently accessible and Thiriyai itself, which was once an old seaport of the Jaffna Kingdom. Immerse yourself in the tranquillity and reflect on the fact that the Dagaba is believed to enshrine a relic of hair from the Lord Buddha himself.
Trinco City Tour – Historical
Trincomalee  famed as the 'Rome of the Pagans of the Orient' in the sixteenth century has been, coveted since the dawn of time for its beauty along with its strategic importance as one of the world's deepest natural harbours.  Characterised by the distinctive Swarmi Rock the city offers a rare glimpse into a past world shrouded in legends and myths, ancient temples, romantic colonial forts, tales of unrequited love and underwater discoveries as well as the tragedy of Sri Lanka's little known version of its own Pearl Harbour.
Trinco City Tour – Spiritual
The Hindu temple is believed to be a sacred space where man and God commune. Within these sacred abodes, priests conduct puja rites, presenting flowers, water, incense, lights, food and other choice offerings, to honour the Gods and invoke their presence and blessings. This devotion in Hinduism is known as Bhakti. It is an entire realm of knowledge and practice unto itself explained by a knowledgeable spiritual guide who will help you to explore the symbols and meanings.
Fishing in the Mangroves
Experience the serenity of the mangroves at dusk and theslower rhythm of life of the local fishermen. Marvel at the abundance of Sri Lanka's endemic and migratory birdlife and other wild life such as crocodiles, monkeys and possibly elephants in the beauty of an untouched paradise framed by the backdrop of spectacular sunsets. Add to the experience by trying your hand at fishing should you wish to.
Fishing in the Sea
Best times: Early Morning
Experience the thrill of fishing out in the ocean with knowledgeable local fishermen. Equipment and refreshments provided.
Velgam Vihara
The little known ruins of this ancient monastery, venerated by Sinhala and Tamil Buddhists alike as the ancient stone inscriptions testify, lay hidden in the dense jungle near the picturesque Periyakulam tank. Combine this with a visit to the Kanniya Hot Wells mystified in legend and believed to be a part of an ancient spiritual network,whichgives rise to the notion that thesewaters have magical healing properties.
China Bay Golf Club
A refreshingly new Sri Lankan golfing experienceset in 171 acres of lush greenery and trees. Every aspect of the course has been newly crafted with views of one of the most spectacular bays in the region. Clubs and caddies available.