Mark Thornton and Maral Sarkis
Testimonials
Mark Thornton and Maral Sarkis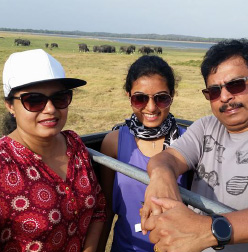 We want to thank you and your team for organizing such a fantastic trip for our family. Your enthusiasm and dedication to making this a total success was extremely appreciated.
The service and professionalism of yourself and your wonderful guide Heti were flawless. Additionally, We were extremely impressed with Jetwing as a company; your properties were just beautiful. Equally impressive was seeing how well responsible tourism could work; from solar panels everywhere, to water treatment facilities and conservation and rehabilitation efforts on your properties.
Thank you so much for the thoughtful gifts, lunch, following up with us and looking after us so well thought our stay in your beautiful country. You have certainly succeeded in making this a most memorable adventure for our family. We left Sri Lanka feeling like we have had the best family holiday yet. We would love to come back some day; I miss it already!!
Thank you from the bottom of our hearts for making our family holiday in Sri Lanka a wonderful, memorable adventure.
Mark Thornton & Maral Sarkis travelled on 4th – 17th April 2017