Amaya Hills Kandy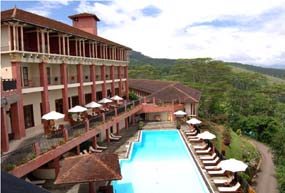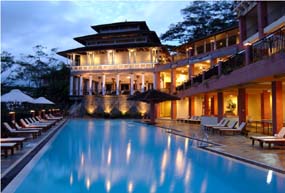 Amongst the eco friendly resorts in Sri Lanka, this Kandyan hotel is a tasteful mingling of the essence of Kandy's culture with the trimmings of contemporary chic and four-star luxury. Rooms offer a feast for the eyes of distant hills, valleys below and far beyond, while the interiors include entertainment systems, balcony sit outs and more.
Nestled in the picturesque hill tops of Kandy, Amaya Hills offers guests a breathtaking retreat that peers into the verdant mountains of Hanthana. Built along the lines of a Kandyan Palace, a Maligawa as locals would call it, this four-star hotel is a tasteful mingling of Kandyan culture paired with the trimmings of contemporary luxury.
Built along the lines of a Kandyan Palace or Maligawa – Amaya Hills offers guests a breathtaking retreat that peers down from its summit into the Hanthana mountains that encircle its structure. Its idyllic setting makes it truly a palace of one's own in the hills.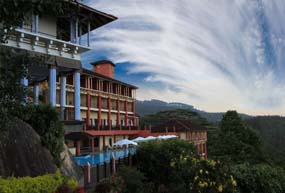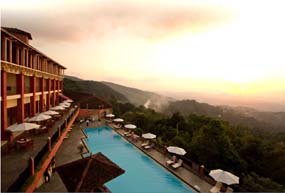 Location
Rooms
Drawing inspiration from ancient Kandyan architectural concepts and motifs, the 100 rooms housed at this four-star hotel offers stunning views of the forest-covered hills of Heerassagala and the scenic valleys beyond. From floor to ceiling, every room brings aspects of Kandyan culture closer to guests, reflecting a unique take on modernistic luxury interspersed with Kandyan culture. Rooms are accented by heavy wooden carvings – a characteristic trait among ancient Sri Lankan artisans.
GUEST ROOMS
Find contemporary luxury influenced by Kandyan aesthetics within each guest room. All feature colours of brick red, dark yellow and black, tastefully incorporated to present an intimate setting along with a balcony, overlooking the stunning valleys.
SUITES
Styled with luxurious sophistication, the suites reflect the cultural heritage of Kandy. Decorative elements accentuate the regal setting of each suite, coupled with scenic views of lush hills in the distance.
SERVICES & AMENITIES
Bed & Bath
Bed & bath
Bathrobes
Hair dryer
Guest bath amenities
Extra towels, pillows, blankets on request
Electric shaver socket
Internet Access
Wifi Access available
Services & Amenities
Housekeeping
A variety of daily complimentary activities
Welcome drink & complimentary fruit platter
Age-specific amenities such as a crib and high chair
24-hour laundry service
24-hour room service
Electric adaptors on request
Iron and board on request
Entertainment
Plasma TV with satellite channels
Access to CD/DVD libraries
DVD player
Room Features
In-room safe
IDD activated telephone(s)
Mini bar
Tea/coffee maker
Two bottles of water daily
Smoke detectors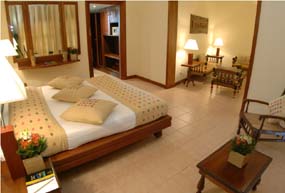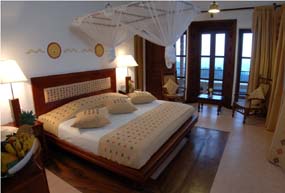 Dining
From the exquisite dishes at our elegant restaurant to the exotic cocktails from our bar to the delightful sandwiches at the airy poolbar, Amaya Hills at Kandy aims to please every palette. Savour a range of delicious offerings, showcasing Sri Lankan flair along with fresh local ingredients.
Raswasala Restaurant
Dine on the outdoor terrace, overlooking stunning views of lush mountains. Should you decide to dine indoors, traditional motifs and wall hangings of Kandyan spears sets the stage for a delightful experience along with distinctive mahogany chairs woven with rattan in original designs. Drawing upon classic culinary techniques, everything at our restaurant is prepared with fresh local ingredients pairing with newer, lighter cooking styles. Savour bountiful breakfast buffets or modern interpretations of Sri Lankan cuisine – all within the comfort of an elegant setting.
SPECIALTIES
Our favourite, Kanda Uda Rata Bojun (typical Sri Lankan rice & curry), grilles darne of seer Rasawasala style.
THE TERRACE
Look on as soaring peaks of forest-covered mountains disappear into a cloud of mist as you dine on inspired specialties that highlight Sri Lankan traditions. This elegant open-air section of the restaurant offers majestic views of surrounding nature, sumptuously decorated to offer just the right mix of sophistication and intimacy for the most memorable occasion. During nighttime, romance is enhanced by flickering candlelights, ideal for couples. Sip on a cocktail and enjoy eclectic fare as you watch the deep-orange sunset over the mountains.
Dumbara Bar
Step into the Dumbara Bar – bold yet elegant and fashioned with black and white geometrical designs. Unwind and mingle with an exotic cocktail in hand in a setting inspired by the motifs found in woven mats, unique to Kandy's Dumbara region. Relax on black chairs, replicas of those seen from a painting depicting Sri Lanka's Dutch colonial period and enjoy drinks served with Sri Lanka 's phenomenal friendliness. An innovative A La carte menu is available should you decide to snack on something light.
Tea Shop
End your evening with a cup of aromatic tea. Sample hand-crafted specialty brews from a choice of over 40 varieties produced in the country. Simply referred to as 'Thé' – the local lingo for a cup of tea, the Tea Shop is beautifully decorated in delicate colours, perfect for intimate conversations and enjoyable gatherings. Relax on plush, comfortable sofas, designed in the form of a dolawa (palanquin), traditionally used to carry royalty on their journeys. Usher in nightfall with a range of accompaniments that go perfectly with your cup of tea.
SPECIALTIES
Our favourite, varieties of tea with cookies, specialty coffee espresso, cappuccino
TEA LOUNGE
Step outside to our plush, intimate Tea Lounge presenting a comely atmosphere to simply relax and enjoy the cool air. In the night, this charming retreat transforms into a bustling space, bringing you the festive ambiance for a scrumptious barbecue dinner. Perfected with the culinary finesse of our experienced chefs, each meal is designed to appease your palate, enhanced by a range of side dishes and sauces.
In-Room Dining
Explore the inspired menu creations that have earned Amaya Hills culinary distinction. Savour an intimate dining experience within the comfort of your guest room or suite, offering a perfect blend of sophistication and luxury for a romantic dinner for two. Day or night, a personal fine-dining experience awaits, presenting dishes cooked to perfection and served by our gracious staff.
Sports & Entertainment
Discover a wide range of opportunities at Amaya Hills. Exciting activities abound this charming retreat, each designed to appeal to the discerning traveller. Explore the categories below and be inspired to embark on an unforgettable journey.
Amaya Hills Pool
Overlooking lush forested hills, the resort's spacious poolside presents a cool retreat in a charming setting. Discover a layer of luxury at this breathtaking resort as our gracious staff tend to your every need – be it a refreshing glass of chilled tropical juice or a simple mouth-watering delight.
Fitness Facilities
Maintain your fitness routine or start a new one at Amaya Hills. The fitness centre features a range of state-of-the-art equipment for weight and cardio training.
Complimentary Services and Amenities
Experience unparalleled hospitality at Amaya Hills, presenting you the opportunity to enjoy the comforts of home combined with the discreet luxury the resort is known for. Throughout your stay, our gracious staff will see to it that all your needs are met, offering a relaxing stay in this paradise island.
RECREATIONAL FACILITIES
Jungle treks
Cycling
River fishing
Night safaris
Table tennis
Squash courts.
Billiards Room
Fitness Centre
Swimming pool
Nature Tours & Excursions
Bird Watching
At Amaya Hills, we'd like to encourage our guests to explore the natural splendour of this beautiful hill country. What better way than to set off on an adventurous trek through the Hanthana mountain range and catch a glimpse of the feathered kind. Capture these glorious creatures in their natural habitat as you traverse along winding pathways lined with lush, stately trees.
Prepare for an enthralling excursion as our in-house naturalist will lead you to a number of exciting hotspots, where vibrant birds can be seen in abundance. For a complete experience, our in-house naturalist will be more than happy to educate guests on the different varieties of birdlife existent in the area. It is estimated that over 200 species of birds have nestled in the Hanthana mountain range. The trek should last about two hours and is the perfect photographic opportunity for nature lovers to capture these beautiful creatures in a natural setting.