Dr. Sarath Kotagama, Honorary Consultant
Dr. Sarath Kotagama, Honorary Consultant
Professor of Environmental Science, Department of Zoology, University of Colombo, Sri Lanka/Senior Advisor to the Hon Minister of wildlife Resources Conservation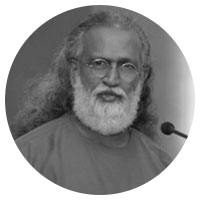 Prof Kotagama is the founder of the field ornithology group of Sri Lanka (1976). Today it is recognized as the Sri Lankan partner "affiliate" of the global bird conservation organization, the Bird Life International.
Prof Kotagama has contributed immensely towards the policy planning of the government by authoring many guidelines on nature and wildlife. Amongst them The National Wildlife Policy (1990), National Wetland Conservation Policy (1997), and the Strategy for the Preparation of National Biodiversity Action Plan for Sri Lanka (1994) are considered significant.
Prof Kotagama is an Adjunct Professor of Brandeis university (USA) and a Visiting Lecturer of Konan University, Japan. Further He functions as a PhD examiner for  Bharathia Agricultural University, Coimbatoor, India.