About Jetwing Eco Holidays
About Jetwing Eco Holidays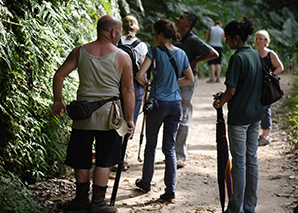 Created exclusively for the specialist eco traveller, expert naturalist and customized tour operator, Jetwing Eco Holidays operates as a small holiday company with an innovative and dedicated staff and a team of qualified wildlife enthusiasts in the field. Our operation also comprises of some of the most experienced travel and hospitality personnel in the country.

The Directors of Jetwing Eco Holidays are all personally interested in wildlife, culture and conservation, and attach a lot of importance in developing the company as a responsible, community-oriented company. The team travels regularly within and outside of Sri Lanka and are, therefore, able to keep abreast of the changing needs of eco and adventure travellers.

Our small company also benefits immensely by being a part of Jetwing, one of the largest tourism brands in Sri Lanka and a group dedicated to responsible tourism. Because of Jetwing's investment in sectors like IT, Operations, HR and Marketing, it is able to pass these benefits onto our clients at a fraction of the cost it would incur as a stand-alone company. The Jetwing family of companies includes Jetwing Travels and Jetwing Hotels which have both established themselves as 'Blue Chip' companies in the travel and hospitality industry in Sri Lanka. With decades of experience, Jetwing companies can make the difference between a satisfying trip and creating lifetime experiences.

Jetwing Eco Holidays is very proud of its association with Gehan de Silva Wijeyeratne whom many acknowledge as having put Sri Lanka on the international wildlife tourism map. British TV celebrity and wildlife presenter Bill Oddie has said no one person has done so much to brand any country for its wildlife. For over ten years Gehan as a director of Jetwing had direct responsibility for growing the eco-tourism subsidiary into the country's leading wildlife tour operator. Many of the country's professional wildlife tour guides have had field training with him or have benefitted from the many books and articles he has written.

Gehan has broken the country's biggest wildlife stories (some of international significance) and has been involved in their commercial development. He was the first to publicize Sri Lanka as being Best for Blue Whale (May 2008), best for super-pods of Sperm Whales on a commercial whale watch (August 2012) and publicise and explain why Kalpitiya is the country's third whale watching hot spot (March 2010). He was also the first to recognize and develop the island's potential for leopard safaris, dragonfly safaris and brand the 'Elephant Gathering'. Many of the Jetwing  Eco Holidays operations staff and wildlife tour leaders were with Gehan on his field trips when he researched his stories.

In June 2010 Gehan returned permanently to London and in 2016 he became Chairman of the London Bird Club.