Team at Jetwing Eco Holidays
Team at Jetwing Eco Holidays
The Jetwing Eco Holidays Team comprises of some of the most experienced travel and hotel personnel in the country. The Directors are all personally interested in wildlife, culture and conservation, and attach a lot of importance in developing the company as a responsible, community-oriented company. The Directors and staff travel regularly within and outside Sri Lanka, and are able to keep abreast of changing needs of eco and adventure travelers. As the Jetwing staff have a personal interest in many of the activities on offer, clients can expect a high degree of empathy.
As they say, it is all down to the people. At Jetwing we have people from the top to the bottom who are committed to building a standard setting eco-tourism experience. Through these links, we profile some of our people.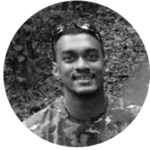 Chandika Jayaratne – Assistant Manager


Following the completion of his LLB (Hons) Degree, he pursued a career within the sectors of hospitality and environmental stewardship. On the research side, he has studied Rusty Spotted Cats in captivity and has now moved on to Studying Jackals and is one of  the founders of the Sri Lankan Jackal project. Chandika is also currently working as the Wildlife Specialist for Jetwing Eco Holidays.