Dehigala Ela, Sigiriya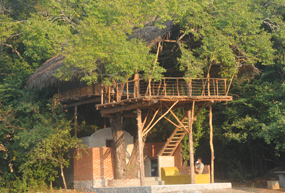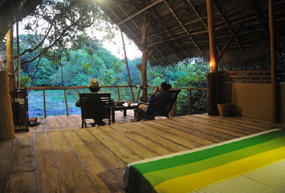 Most of us who love the outdoors have a common passion – to soak in cool clear natural water-ways, to totally immerse ourselves in the sights and sounds of nature. When we found the bubbling Dehigaha Ela tumbling its cold clear water into the warm slow moving Kiri Oya in what looked like a corridor of rain forest in the middle of the dry zone, we knew we had found a Back of Beyond retreat.
A network of red earth roads takes you deep into isolation as chena cultivation blends with high grass and thick forests. It is here that we discovered an abandoned paddy field that had become a delicate green of illuk grass; a circular clearing at the base of a hill, ringed by the thick forest on the sweeping curve of the two streams. A small secret place for all forms of wildlife – elephants, sambhur, birds, butterflies – to visit.
We have barely touched the 7 acre land, as we decided to build even more minimally than at our two previous retreats. For a few years we did no construction at all. We took our time getting to know the land, getting to know the ways of the wildlife that frequented it during different seasons, the natural corridors and pathways they used to access the illuk clearing, the streams, and our new cultivation! We watched the flow of rain water off the hill side down to the streams… and where the birds nested.
What we offer here is for those who dream of sleeping under the stars, of exploring the jungle and streams on foot with all its joys and little discomforts. We have of course, added the comforts and care that has become the Back of Beyond tradition.
Located near the village of Alakolawewa, 25 – 30 min. from Dambulla and Sigiriya, and around 4 – 4.5 hrs from Colombo.
The eco-retreat is situated in a beautiful 7-acre forest and grass land, full of indigenous trees, and a wide variety of birds, butterflies and mammals.  The property borders two streams and has nearly half a kilometer of stream frontage.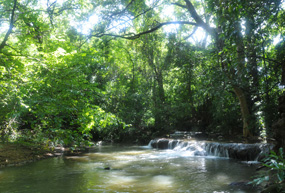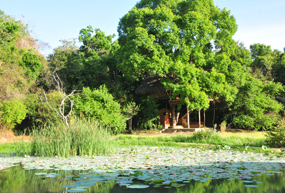 Location
Rooms
Park your vehicle under the trees and walk down a slope through the forest. You emerge into an open green of illuk grass and a small rain fed wawe (lake) encircled by the forest. The lodges are placed along the edge of the grassland and are barely visible as they merge with the forest.
Enjoy the privilege of staying in eco-friendly tree houses and boulder chalets –a total of seven units – three tree houses, two boulder chalets and two family cottages.  These units can be booked individually or taken together for large groups. A common living / dining / service area is centrally located. The entire retreat is powered by solar power.
Damba tree house – (3 people) :-
•  Our most popular unit – a double platform structure built into a spreading Damba tree
•  Maximum accommodation – 3 adults (1 double bed and 1 single bed)
•  Living area on upper floor & at ground level
•  En-suite bathroom at ground level, with solar powered hot water showers
Damba Tree House (5 people):-
•  Our brand new tree house – a double platform structure built  on another large Damba tree
•  Maximum accommodation – 5 adults (1 double bed and 3 single beds)
•   Living area on upper floor & at ground level
•   En-suite bathroom at ground level, with solar powered hot water showers
Kon tree House:-
•  Accommodation in two sections – high up on a Kon tree (not suitable for small children or the elderly) and also at ground level
•  Max accommodation – 3 single beds on top and 1 double and 1 single bed on ground level.
•  En-suite bathroom at ground level (no hot water)
Boulder cottages :-
•  Built into huge granite boulders embedded in the forest
•  2 Boulder Cottages – Seru and Sepalika
•   Max accommodation : 2 – 3 adults in each cottage
•   En-suite bathroom with solar powered hot water
Family cottages:-
•  2 bedrooms separated by a common living area in the middle.  Ideal for family groups
•  Each bedroom can accommodate 3 adults
•  These cottages are only slightly elevated and are suitable for those who are less adventurous !
•  Common living area
•  En-suite bathroom with solar powered hot water
Facilities:-
•  Common living area and restaurant
•  A resident naturalist, superb cook and assistants are present to take care of all your needs
•  Both Eastern and Western menus
•  Outdoor BBQ and hangout areas
•  Mosquito nets/linen/towels/shampoo/soap are provided in all rooms
•  Wi-Fi available
Dining
We have set the living and dining huts on the far side of the small lake and open space. In the tradition of our Back of Beyond retreats, our cook will prepare a wide variety of Sri Lankan as well as western dishes.
We can also pack you a picnic lunch should you be spending the day exploring.
As the closest market is many miles away, we would greatly appreciate your discussing early with our staff should you like to have any specials which have to be bought in town.
All the lodges are offered on Bed and Breakfast, Half Board or Full Board basis.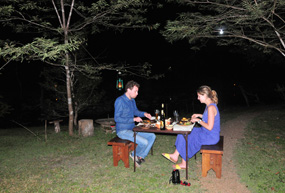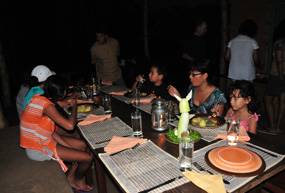 Nature Tours & Excursions
There are a number of high outcrops that provide excellent hiking options. Not only are you hiking in forested areas, you also get to explore the ruins of ancient monasteries and palaces. Day or evening safaris to the Naltional Wildlife Parks provide excellent opportunities for elephant watching.
National Wildlife Parks: Drive one hour from Dehigaha Ela to reach Minneriya National Park, and 1.5 hours to reach Kaudulla and Hurulu Wawe National Parks.
Minneriya, famous for its 'Gathering' when herds of over 200 elephants move to the open grass lands and its neighbouring park, d Kaudulla are beautiful parks well worth a visit. The recently opened Hurulu Wawe Park is also waiting to be explored.
Archeological reserves: The ancient Sri Lankan excelled in the art of combining nature with human habitation.To explore an archeological site is in fact to marvel at how human construction can enhance rather than destroy nature. Sigiriya, Pidurangala, Nuwaragala, Kaludiya Pokuna, are all worth the effort of climbing if only to prove its possible for us to live as one with nature. You can also visit the famous caves of Dambulla.
Kaludiya Pokuna:  Less than 30 minutes drive from Dehigaha Ela.
Less well known than its famous namesake in Mihintale, this too is an ancient abode of meditating monks. Dozens of caves carved with drip ledges, and over a thousands of year old Brahmi inscriptions are scatted up the hill side. But it is gnarled old trees and creepers that really makes exploring this site an exceptional experience.
Nuwaragala:  30 minutes drive from Dehigaha Ela
If you are in search of solitary exploration, head towards Nuwaragala. Not even the villagers of Wawela are too familiar with the site. Kiri Oya which joins Dehigaha Ela at the edge of our property starts from a small ancient tank built on one of the peaks of Nuwaragala. Follow the rocky stream bed up to a cluster of trees as ancient as the ruins. In addition, there is also plenty to substantiate the theory that King Mahasen had a palace here. From this point he is said to have supervised the construction of the irrigation systems of Minneriya.
Sigiriya: Less than 30 min drive from Dehigaha Ela.
Pidurangala: Less than 30 min drive from Dehigaha Ela.
Dambulla: 30 minute drive from Dehigaha Ela