Jetwing Lighthouse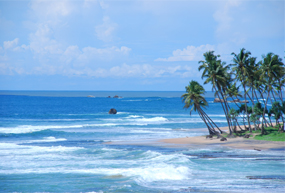 Jetwing Lighthouse sits atop a hillock overlooking the blue waters of the Indian Ocean in the picturesque port of Galle, which reflects a strong Dutch colonial influence. The architectural marvel offers a rare sense of being steeped in history apart from pampering guests with exquisite global cuisine and unmatched luxuries.
The hotel is situated 155 km (2 hrs drive) from the Colombo International Airport along the breathtaking western coastline of Sri Lanka, flanked by endless beautiful beaches that make the drive an extremely picturesque one.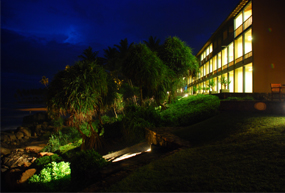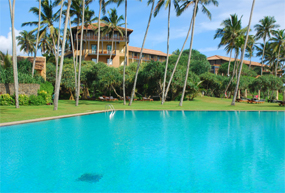 Location
Rooms
The hotel rooms and exclusive suites are plush and there is generous use of rich timber and eco friendly fabric, letting in fresh sea breezes and allowing stunning views of the singularly beautiful landscaping all around the manicured hotel gardens and the emerald ocean.
TOTAL NUMBER OF GUEST-ROOMS
60 Deluxe rooms and 03 Suites (all rooms are sea view with private balcony or terrace):
• The Ibn Batuta (Moroccan Design)
• The Fa Hsien (A Taste of China)
• The Spielbergen (The Dutch suite)
AUDIO-VISUAL EQUIPMENT AVAILABLE:
* Multisystem Video and Television
* Magiboard and Markers
* Flipchart board with white paper and markers
* Public address system [Clip on mikes, cordless mikes (FM mike), table mike, podium with a light and mike.]
* Multimedia system with connections for computers, video players, TV, etc.
* Slide Projector (Track – 50 slides)
* Stage blocks available
* Laser Pointer
SUITES
The richly appointed suites are fit for royalty and pamper guests in every way. Apart from the facilities listed above, the suites are provided with a DVD player, a Jacuzzi and a separate seating area for visitors. A stay at our plush suites leaves you wanting more.
SPA
The Spa at Jetwing Lighthouse unveils secrets of relaxation and rejuvenation for a new you. Therapeutic massages to release toxins in the body by trained masseurs, a cold plunge pool to revive your skin and a range of treatments to choose from, your every whim is pandered to by our efficient and friendly spa personnel. Healthy and nutritious drinks and snacks are also on offer while your body is soaked, massaged and pampered.
BUSINESS
Business travellers need not miss a beat while staying with us and can avail of our extensive professional facilities to ensure that they remain connected with different parts of the world. The hotel is also a favourite conferencing destination for local and international organisations, who regularly hire rooms for its staff. Our Business Center is fully equipped with E-mail and Internet facilities and we also provide access to international courier services.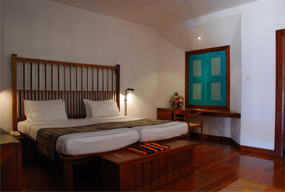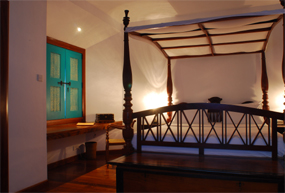 Dining
RESTAURANT & BARS
Jetwing Lighthouse has acquired an enviable reputation for serving exquisite cuisine with a distinct international appeal. Our award winning chefs spare no effort to ensure that every dish sent out from our kitchens bears the hallmark of perfection.
* Cinnamon Room – Fine Dining
* Cardomom Café – 24 hour restaurant
* Anchor Bar and Grill – Poolside Bar and Café
* Coat of Arms Bar and Cinnamon Terrace
In addition to the regular menus being featured in the above restaurants, we now feature a 'Heart Healthy Food' menu for the benefit of those on special dietary restrictions.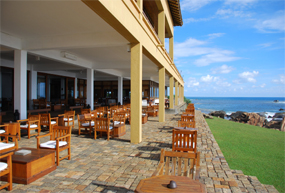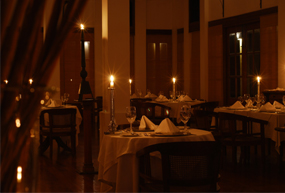 Sports & Entertainment
SPORTING FACILITIES
* Tennis Court and Squash Court (Racquets and balls available)
* Billiards
* Table Tennis
* Indoor games (Chess, Carrom, Playing cards, etc)
* Scuba diving and snorkeling can be arranged in neighboring areas
ACTIVITIES AND FACILITIES
There is never a dull moment at the hotel, with our personnel devising various activities to keep you active and gain a keen insight into local sights and sounds.
* Tours organized on request (shopping at the Galle Fort, visit to a low country tea factory, watch our renowned Stilt Fishermen in action, mask carving and lace making, island hopping at Madolduwa – Spice Island/ Temple Island, trekking at Rumassala, whale watching)
* Signature private BBQ among the rocks
* 02 swimming pools, kiddies pool and natural rock pool
* Laundry and valet service
* Fully equipped gymnasium
* Spa