The Yala Adventure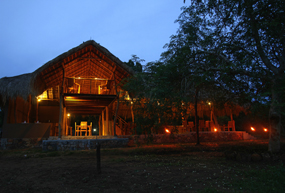 The Yala Adventure. . . Characterizing the nature in its purest form combined with finest luxury stay. Consist of luxury tented accommodations –at its finest and comfortable rooms.
We. . . a troop with uncountable spirit of adventure who intervene to preserve and respect inestimable mother nature .
Place. . . . Enhanced our specialty and uniqueness.It's a rural and unspoiled village call " Weweyay" [Definition – Rage of Lake ] , isolated from the hassle and bassle of the city . The Hotel risen up in a edge of "Yoda Wewa" [an ancient lake] . As surrounded by lush greeneryit makes a home to various kinds of endemic and indigenous birds. Our neighbor, picturesque "Yoda Wewa" blanketed with purple and white aquatic flowers year in year out. We are close to The Yala national Park, Lunugamwehera National Park and Bundala National Park . It's particularly a hub to nature lovers.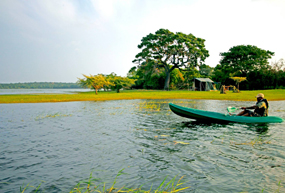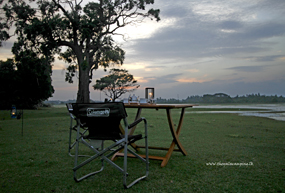 Location
Rooms
Standard Room
Our Standard Rooms located in first and second floor in the 60ft height tower. Experience cozy and comfort living in standard rooms with well appointed and offers excellent rate. It gives you breathtaking panoramic views of Yoda Wawa and Vedihiti Kanda mountain range. Rooms are peculiarly designed to enhance comfort, peace and privacy. These beautifully arranged rooms rejuvenate you from the kissing of aurora while you on your bed and neo breeze conjoint with blooming flower fragrant offer you the ultimate sensuous escape.
All Standard Rooms are fulfilled with
·  Twin beds covered with world standards soft linen and pillows
·  Luxury Bathroom Facilities rainy Shower
·  Hot and cold water facilities
·  Fully air conditioned
·  Free Wifi
·  Intercom telephone facilities
·  Private Pavilion
·  Cable TV
Deluxe Rooms
Divulge the comfort and rest of the Deluxe Rooms at The Yala Adventure fitted with a large veranda overlooking lushly green garden. These specious , comfortable Deluxe Rooms come with own complacency interior space furnished with hand crafted and interior piece of work accented with indigenous hand looms which feature a restful earth tone colors. Our Deluxe Rooms simply reflect a modern sophisticated aesthetic offering decorous comfort.
Our unique Deluxe Rooms are fulfilled with
·  Best king size beds covered with world standards soft linen and pillows to let you to have a hassle free cozy "Good Night"
·   Luxury bathroom facilities with cubicles and rainy Shower
·   Hot and cold water facilities
·   Fully air conditioned
·   Free Wifi
·   Intercom telephone facilities
·   Veranda facing to thefruitful green garden
·   Cable TV
Luxury Tented Accommodation
The Yala Adventure, a collection of glamour's unique luxury tented accommodations to knit with the picturesque outdoors facing to the Yoda Wawa [superior water tank made in ancient times and under the shade of unwieldy trees. Without forgoing for a amenities of a luxury resort, you have the choice of inspiring and enchasing your spirit, mind, body and soul by impressive array of glamorous amenities tents at The Yala Adventure.
All luxuries tented accommodations are fulfilled with
·  Best double and twin beds covered with world standards soft linen and pillows to let you to have a hassle free cozy "Good Night"
·   Luxury Bathroom Facilities with cubicles and rainy Shower
·   Hot and cold water facilities
·   Fully air conditioned tents with free Wifi
·   Intercom telephone facilities
·  Private Pavilion facing to the Yoda Lake is provided to keep your day to day necessities without escaping from the technology. While soothing the physical body we give something to enhance your mind, spirit and soul too. We provide library facilities and you can cling to your favorite book while swinging in a Hammock or sitting on your own private pavilion, breathing the fleckless cool breeze of Yoda Wawa and listing to innumerable bird songs.
Are you dreaming to be in the wilderness but convert creature comfort?
Well here is the place for you ….to get escape from whole world, a life time opportunity to you to feel it from the bottom of your heart.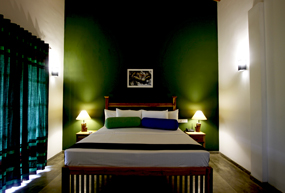 Dining
An Intimately Arcadian Experience. . . . . .
Our eco-friendly open air restaurant is truly a unique way to dine in. Demonstrating the verily need of preserving the Mother Nature, It is made out of wooden and thatched from one of a traditional grass call "Iluk". For a split second you will fancy that you step in to a traditional African restaurant. Captivating greenery surrounding, freshly drifted breeze and naked view of "Youda Wewa" is the first steps for charming dine in. From our handicraft menus, you can choose to have harmonious blended traditional Sri Lankan foods, or some endemic indigenes cuisines to international fine dining with a bit of Sri Lankan touch to satisfy your tasty buds and conflate to the charm. Fresh, locally grown ingredients make all the difference in your dining experience. In our kitchen we make sure to use organic and fresh ingredients from spices to main course. Most of them plucked from our own organic garden. Withal we empower local community by, buying their products from farmers of the village. Urge to taste mouth watering fresh sea foods? Well, it's just your order – away. All supplies are daily rounded away from Kirinda Fish Market.
Unique Dining Experience
Dining in the main restaurant
We offer you a range of menus completed by fresh, organic, healthy foods. While your table decorated with aquatic flowers, inhale the pure breeze and enjoy your delicious dish in a gleaming candle light.
Romantic dinner night at Lake Bank.
Set apart from day today "Dramatic World" and indulge in a unforgettable dinner with that special someone. While water tremble around your feet and blanketed sky of stars blink as far as your eye sight can reach , taste succulent meal with flavors of LOVE . For a picturesque evening that force to leave melancholy in your lives. It is specially designed for honeymooners. A truly unique experience of dining at 60ft higher tower sky deck will desert away from the main restaurant. Engage with breath taking panoramic view, gleaming candle lights and delicious foods….. What else you need for a memorable magical night? You're just under the sky……
BBQ Dinner
A night you will remember rest of your life. Enjoy a wide selection of finest BBQ as born fire gleam away surrounding somber. A night with a smell of mouth watering, on a lake bank under the moon with a little bit of magic…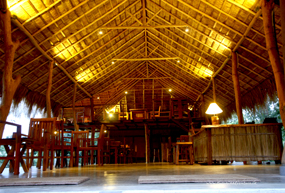 Sports & Entertainment
Library
Our open library is placed in a specially designed deck in the first floor of the restaurant. While cling in to a cozy bean bag, breathing the natural air condition, or under the shadows of a tree in the golden sky of nightfall, you can read your favorite book. Our library has a stock of various kinds of books. It will surely reduce your weariness. You can choose leisure reading without participating in other adventure activities. We have not restricted to a one theme but have various kinds of books from world famous authors to local or even history and nature, just to enhance leisure. We are expanding our library on the requirements and comments of our guests.
Archery Station
This is something unique and an enjoyable activity that we introducing. We understand your preference for variety and we let you to enjoy this art, practice or skill. In our station you may experience the modern form of archery as recreational activity. It is great fun.
Air gun/Riffle
Hold your breath!
Yes, you are going to experience this activity too. It is a game rapidly gaining popularity in famous tourist destinations globally but new to Sri Lanka. While giving you entertainment, we strictly consider your safety while conserving the natural aspects. We follow world recognized rules such as manufactured targets, distance of about 25 feet away to ensure your safety and protective equipment for eyes and ears.
Adventure Activities
Do you want to be stuck in the present…?
The best solution is Adventure…
Adventure always stands for exciting and unusual experiences. As name suggests, we at The Yala Adventures offer some exciting adventure activities during your stay with us. Our accommodation tower has become a platform for Rappelling and we offer this as a complementary activity for the guests who patronize The Yala Adventures. The overlooking freshwater lake make The Yala Adventure, a perfect location for canoeing or kayaking followed by the music provided by chirps of the birds roaming the surrounding.
All our instructors are well trained professionals and we make your experience extraordinary.
Adventure we offer,
Tower Rappelling
Boat ridding
Kayaking
Toddy Rope and many more ….
Cycling
Cycling along the rural village
Our cycling excursion will enable you to re-connect your pledge with the Mother Nature. The trail starts from the hotel premises and ride along the gravel road, passing the village houses and small tanks full of buffalos topped up with birds on their heads. The peacocks drifting in the paddy fields and in the surrounding shrubs will add glamour to your cycling experience while the chirp of the chips will provide natural music. The banks of the tanks with full of birds will be a bonus for bird enthusiasts and picture lovers while the fresh air will fill your lungs with non-toxic breath. The excursion will reach its climax at a lake bank where you will visit a Chaina Cultivation (slash & burn cultivation) by the villagers. The uniqueness of this trail is the interaction between the local villagers.
You will be able to experience and witness their simple way of life, their healthy foods & eating habits, and the natural medicines & healing methods. Their lifestyle is always connected with the nature.
If you are keen on spending few hours & interact with them, you are free to work with them and cook your own organic food with them before you start to retreat.
Nature Tours & Excursions
Bird watching
"Bird watching is your lifetime ticket to the theater of nature"
Sri Lanka is one of 25 bio diversity hot spots in the world and also well known famous destination for bird watching, especially around the bird sanctuaries and wetlands in south east of the Island. Surrounding fertile lush greenery of "Yoda Wewa" provides natural feeding for one of the amazing creation of Mother Nature – BIRDS.
The Yala Adveture hubs large diversity of over 150 species including both indigenous and migrant birds. You can discover Raptors, Kingfishers, Plovers, Gulls, Terns, Rails, Insectivores, Granivores, omnivores and many other birds in our home garden and co adjacent "Yoda Lake". We have in house naturalist who will maximize your birding experience.
The invitation is open to you to spend the day listing to tuneful songs of Common Iora and cling to a good night sleep with Jerdon's Night Jar's lullaby.
YALA NATIONAL PARK
YALA NATIONAL PARK renowned as the best in the world is the star attraction where you can observe and photograph leopards. As well as leopards there are large numbers of elephants living inside the park and these can be seen bathing in the numerous lakes within the park. You can also see spotted deer, sambar, wild boar, wild buffaloes, sloth bear, jackal, crocodiles and mongoose. The bird life is also fantastic and you can see at close range Rosy Starlings, Paradise Flycatchers, Crested Hawk Eagles, Blue-Tailed Bee-Eaters, Peacocks and Common Loras.
Yala East consists of scrub jungle, brackish lagoons and stunning rock monoliths scattered throughout the park. The vegetation in the park comprises predominantly of semi-arid thorny scrub, interspersed with pockets of dense secondary forest. Small patches of mangrove vegetation also occur along the coastal lagoons. The park is also renowned for its fine coastline (associated with beautiful coral reefs). It also boasts a large number of important cultural ruins, bearing testimony to earlier civilizations and indicating that much of the area used to be populated and well developed.
BUNDALA NATIONAL PARK
BUNDALA NATIONAL PARK adjacent to the Yala National Park covers an area of 6216 hectares. This park has been declared as Sri Lanka's first of five 'Ramsar' wetlands in Sri Lanka – one of great international importance especially for migratory waterfowls. For keen bird-watchers, the complex wetland system harbours a rich bird life (approximately 197 species), including several species of migratory waterfowl. It is also home to 32 different species of mammal, 5 of which are classified as threatened. The park falls within the southeastern arid zone of Sri Lanka, with a general climate that can be classified as hot and dry.
The terrain is generally flat with sand dunes bordering the coastline, and vegetation consists mainly of dry thorny scrublands and lagoons. A total of 383 plant species have been recorded from the park, including 6 endemics and 7 species that are considered nationally threatened.
Village Trek
We will start our village excursion in front of our hotel lake bank. We will ride along the Yodha Lake and a ride of half an hour will take you to the bird island which is a home for number of birds. We will have a look around the island and meet the local fishermen who wait for their harvest. If you are keen you will be able buy some freshly caught lake fish from them where you can have a dish of fresh water fish for your lunch. We will continue our ride up to the other bank of the lake from where we will start our village expedition. We will walk along the village houses, paddy fields and chaina cultivations experiencing the local village life styles. We will stop at a village chaina where you will be welcomed by a cup of local herbal drink with homemade local sweetmeats. We will spend few hours & interact with the local people at the chaina. You will be able to get hands on experience of working with a head farmer at the Chaina. His family members will help you to cook your meal where you will be able to experience local cooking as well. Enjoy your freshly prepared Farmers' lunch at the Chaina. Saying good bye to the farmer and his family members we will start our retreat. We will come back to the lake bank where we will get into the catamaran and ride back to our hotel in the other side of the lake bank.
Nature Trek
Trekking is the best method of exploring the nature and its marvels. We will start our trekking trail from our hotel premises with our well experienced Naturalist. This trail enables us to have an incredible birding experience along with the interaction of local community. We will walk along the village houses, temples, local boutiques, and small irrigation tanks etc… where you will be able to gather diverse experiences. Get into a village house and experience their warm local hospitality will be another unique experience in your trip here in Sri Lanka. Enjoying homemade sweet snacks and local herbal drink will enable you to amuse your taste buds. We will end our trail at an ancient Boo Tree (ficusreligoisa) believed to be originating from period of King Dutugemunu. After gathering diverse experiences, we will back to the hotel.
Tissamaharama
TISSAMAHARAMA – (usually abbreviated to Tissa), is one of the most pleasant towns in the south. Tissa is used as a base for trips to the nearby national parks of Yala and Bundala and the temple town of Kataragama.
Tissa also consists of a handful of monuments testifying to the town's important place in early Sri Lankan history when, under the name of Mahagama, it was one of the principal settlements of the southern Kingdom of Ruhuna (03rd Century B.C).
The biggest attractions of the city are the Tissa Lake which was a part of a sophisticated irrigation system, dating back to the Kingdom of Ruhuna. The other famous attractions in Tissa are the Tissamaharama temple, the Yattala Viharaya and the Sandagiriseya, which also date back to the Kingdom of Ruhuna.
KIRINDA
KIRINDA – is a coastal town with a small port located on the south coast of Sri Lanka. Visited by many pilgrims, tourists and naturalists alike, Kirinda is a beautiful place with spectacular views of the bare coast with its long stretch of sand dunes.
On a clear day the lighthouse on the Great basses reef appears like a needle in the far distance. Kirinda is one of the best five places for scuba diving in Sri Lanka. March to mid-May is the best time to dive here.
It is best known as a base from which to experience some excellent diving at the famous 'Great Basses' wreck and the Great and Little Basses reefs. A particularly unique feature of the Great Basses is the light-house that was actually constructed on the reef in 1860.
The legend behind Kirinda is that In the 2nd century BC a princess who arrived by a cast away boat at the shores of Kirinda, eventually married King Kavantissa of the Ruhuna Kingdom to fulfill the prophecy, that if the king was ever to marry, it would only be a princess arriving over the seas.
The princess, named Vihara Maha Devi, for her bravery, bore the king two sons who were to become heroes. The elder son King Dutugemunu (161 – 137BC) of Ruhuna became the greatest hero of Lanka by rescuing the nation from the marauding Dravidian invaders from south India. Viharamaha Devi herself is recognized as the heroine of Sri Lanka.
Sacred Town of Kataragama
SACRED TOWN OF KATARAGAMA – 19 km inland from Tissa lies Kataragama. One of the three most venerated religious sites in Sri Lanka held sacred by all 4 major religions pilgrims visit in search of divine assistance. The most important of the town's various shrines is dedicated to the God Kataragama.
The festival is famous for the varying forms of physical mortification with which some pilgrims express their devotion to Kataragama, ranging from crawling from the river to the Maha Devale to gruesome acts of self-mutilation: some penitents pierce their cheeks or tongue with skewers; others walk across burning coals – all believe that the God will protect them from pain.
Sithulpawwa
SITHULPAWWA – is a rock temple and has a history of over 2200 years. Located in the Hambantota district, it is believed that this rock temple once housed a total of 12,000 Arhats (monks that have achieved the highest mind level in Buddhism).
Maha Sithulpauwa rock is 400 feet in height and it houses an intricate cave complex and the dagoba situated on top of the rock; the dagoba is believed to have been built by King Kawantissa of the Ruhuna Kingdom (03rd century B.C).
The rock temple was a place of worship for devotees as well as a centre of Buddhist scholarship. The life that the Arhats lived in Sithulpawwa was a hard one, with silence and solitude.
The rock temple is famous for its early Brahmi script, ruins of the preaching house and the fragments of paintings, which are displayed at the image house.