Udawalawe National Park, Sri Lanka
Udawalawe is a popular national park because of its Elephants and its proximity to Colombo. The park is a mixture of abandoned Teak plantations, grassland, scrub jungle and riverine 'gallery forest' along the Walawe Ganga and Mau Ara. Uda Walawe is probably the best place to see wild herds of Elephants, consisting of tightly-knit family groups of up to four generations of related adult and sub-adult females and young.
Getting There
Wild Life
Satinwood, Ebony and Trincomalee Wood trees are present and the river margins are characterised by water loving Kumbuk trees. Endemic birds include the Ceylon Junglefowl, Ceylon Spurfowl, Ceylon Grey Hornbill, Ceylon Woodshrike and Ceylon Swallow. In forested areas Sirkeer and Blue-faced Malkohas are found. Toque Monkey, Hanuman Langur, Spotted Deer, Wild Pig, Black-naped Hare, Ruddy Mongoose and Sambar are likely to be seen. Leopards are present but rarely seen.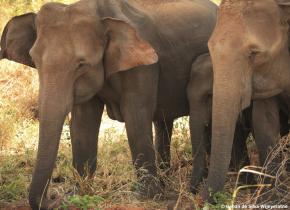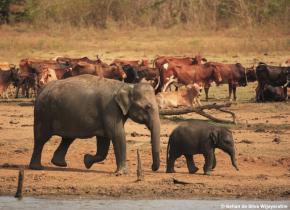 Park Accomodations
Safari Village at Timbolketiya and Centauria Tourist Hotel at Embilipitiya.