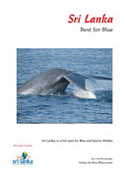 Best for Blue, Blue Whales in Sri Lanka
De Silva Wijeyeratne, G. (2010). Best for Blue. Sri Lanka Tourism Promotion Bureau, Colombo. e Edition. 8 pages. A4.

The 8 page A4 brochure outlines briefly the discovery that Sri Lanka is one of the best, if not the best place in the world for seeing the Blue Whale. The seas south of Dondra are almost certainly the best for seeing Blue Whales and Sperm Whales together. It has a brief summary of the discovery and a fact at glance section answering frequently asked questions. Brief descriptions of the main species are also included.