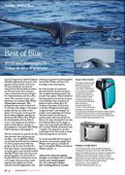 Best of Blue, Blue Whales in Sri Lanka
de Silva Wijeyeratne, G. (2008). Best of Blue. Serendib, the in-flight magazine of Sri Lankan. November – December 2008. Pages 42-46.
The story behind the discovery that Sri Lanka is the best place in the world for seeing Blue and Sperm Whales together.