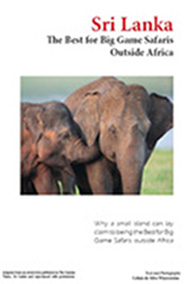 Sri Lanka: The best for big game outside Africa
De Silva Wijeyeratne, G. (2011). Sri Lanka: The Best for Big Game Outside Africa. Sri Lanka Tourism Promotion Bureau, Colombo. e Edition. 16 pages. A4.

Explains why the small island of Sri Lanka is the best for Big Game Safaris outside Africa. The article discusses a framework for choosing charismatic animals as a target species for big game safaris and examines what is available in the different continents and why in the final analysis it is a choice between India and Sri Lanka.