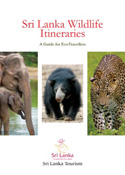 Sri Lanka Wildlife Itineraries
de Silva Wijeyeratne, G. (2008). Sri Lanka Wildlife Itineraries: A Guide for Eco Travellers. 1st Edition. Sri Lanka Tourism: Colombo. 34 pages. 26.5 x 21 cm. Softback. ISBN 978-955-1079-17-8. Photography and body text by Gehan de Silva Wijeyeratne. Itineraries by Ajanthan Shantiratnam, Aruni Hewage and Nirusha Ranjitkumar.

This beautifully illustrated and designed book contains overview information for visitors together with a selection of itineraries. The itineraries for elephants, leopards, birds, butterflies, dragonflies, rainforests, etc cover the key groups which are of interest to eco travellers.